Simpler, Faster Online Communication
Loop builds powerful, uncomplicated websites for municipalities. Our website features are specialized, and our unique platform makes it easy to publish content.
Built for Municipalities, Just Like Yours

Loop is loaded with features you won't find anywhere else. We focus on out-of-the-box website components that solve the unique online challenges faced by small-to-medium municipalities.

An Integrated Platform for Faster Communication

Loop websites are purpose-built to meet the online needs of municipalities. We speed up communicating, letting you update content for any of your website's features in seconds.

Easy to Use, for Everyone

Loop's uncomplicated features mean even staff members with no technical experience can work online without frustration.

Mobile-friendly Designs

All Loop websites are built with a responsive design, ensuring the website functions flawlessly on all screen sizes

Custom Design Option

In addition to our pre-designed website templates, you have the option to have a partial or fully custom design. Your municipality is unique and deserves a custom website from our experienced design team. We'll work closely with you to design a website you'll be proud to launch!

Secure and Reliable

Loop websites are hosted using a private cloud, ensuring your websites have the capacity and scalability that modern websites demand.

Switching is Simple

We'll support you every step of the way, making your move to Loop seamless. We take care of formal training, ongoing support, and can even migrate content from your current site for you.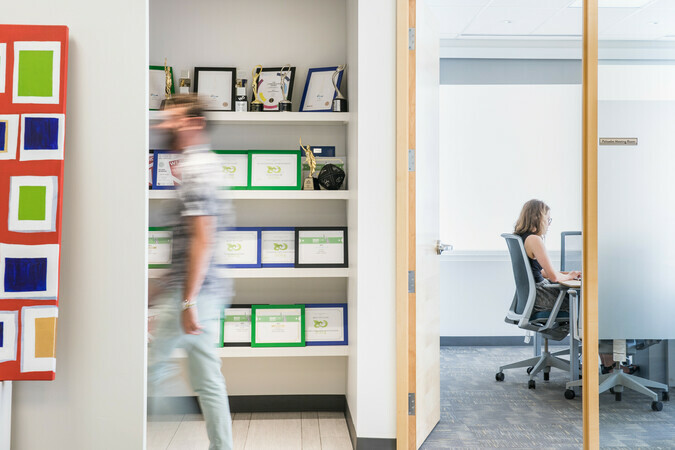 Our Promise to Municipalities
At Loop, we are more than the sum of our system's features. We want you to have fun with your websites and be proud of your online presence. That's why we provide our clients with in-depth planning, care, and support on an ongoing basis.
Frequently Asked Questions
Our pre-designed website templates take about 1 month to complete. Municipalities that take advantage of our in-depth custom design process typically see a project timeline of 3-4 months from start to finish.
Before launch we create your new website, configure them to include the special Loop features you want, and (if the service is selected) migrate your existing website content to the Loop system. Our user training sessions take place after your website is complete, giving you the opportunity to edit or add content prior to launching.
Pre-designed website templates can help get your new website up and running fast at a lower cost, but custom designs can help you stand out! At Loop we pair you with one of our professional web designers to build a truly unique website from scratch. 
Typically a 3-4 month process from start to finish, our design team guides you through our planning, wireframe, and design phases, giving you a chance to collaborate and provide feedback at every step.
Your municipality is a great place to live, work and visit. Our custom design process ensures that your website tells that story!
Yes! We can professionally migrate your existing website content to the Loop system.
Many systems are less user-friendly than Loop, and this can lead to a backlog of outdated, unmanaged website content. We'll work with you to clean up old content and move it into into a workable, logical new sitemap!
Absolutely! All Loop clients are live on the newest version of our system. This means when we release new features they are instantly available to all our municipal clients. We never leave you stuck on an "old version" of our system. We perform updates behind the scenes so your IT department never needs to run an update or install new features.
We include in-depth training for users that goes way beyond step by step instruction. We talk about how to create great content, choose good images, and keep website content accessible. 
We include direct, ongoing support to all users on the Loop system at no extra cost.
Yes. Loop websites are hosted using a secure private cloud. The cloud ensures your websites are more reliable and have higher uptime compared to websites hosted on a single server within your own environment or a colocated server.
Yes, we will build your websites to WCAG Level AA standards, ensuring your website is accessible to your visitors. An essential part of maintaining accessibility standards is the ongoing management of accessible content. That's why our user training includes tips for maintaining accessible content after launch!